Details: | Hits: 7544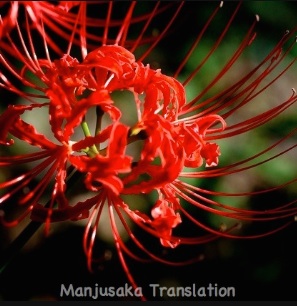 Manjusaka Translation is based in China. We provide translating/interpreting services of English to Chinese and Chinese to English, both traditional and simplified Chinese, Cantonese and Mandarin.  

Area of focus is:


literature (novels, biography, news articles, poems etc.)
subtitles (film/movie, video, DVD, television, commercials etc.)
professional documents(resumes, essays, reference letters, name cards etc);
advertisement(brochures, flyers);
We enjoy the challenge of working with the writer/producer's style with literature, books and movies, and have a good sense of what would work in advertising, or what catches readers' attention in a good article.
Please contact This email address is being protected from spambots. You need JavaScript enabled to view it.
Escort/travel interpreters often act as cultural liaisons, This type of interpreting is often used for meet-and-greet, an interview, a sightseeing tour, helping foreign guests to visit a site/city, event hosting and so on.
What To Look For In An Escort Interpreter
1. Language(s) Expert
2. Culture(s) Expert
3. Location(s) Expert
4. Personality, Professionalism And Trust
夏羿千载为专业中英文翻译社,提供笔译及随同翻译(口译)。出版译作包括当代文学,童书。擅长翻译项目包括:

文学(小说,传记,散文,专题报道,诗歌等)
字幕(电影,录像,数码片,电视,广告等)
童书;
广告/宣传册;
网站;
专业文档(个人简历,论文,推荐信,名片等)

中译英或英译中,繁简体中文,粤语/国语皆可。我喜欢迎合原著者的风格,熟知市场的需求,阅历者的喜好等。

联系方式 This email address is being protected from spambots. You need JavaScript enabled to view it.
---
Translation 翻译作
穿越杂丛和花朵间
那里有埋在海草里的英雄
有清晨里的孩童
他们探出身体索爱
身体永远凝固在那 
《Suzanne》by Leonard Cohen 《苏姗》科恩著,全文
Leonard Cohen China Site 莱昂纳德科恩中文作品辑
灵魂间的连接很久以前就存在,早在宇宙存在之前。
A bond between souls is ancient, older than the planet 
Your Reflection in my mirror 我的镜子你的身影
悼念词 Devan Mulvaney's funeral speech
 ---
Depth of Field Himalaya Travels  喜马拉雅深度文化游
customized cultural trips