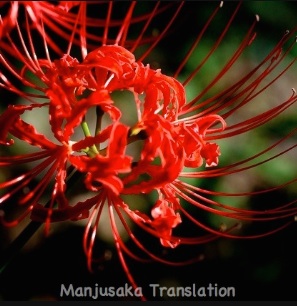 ---
Translation 翻译作
穿越杂丛和花朵间
那里有埋在海草里的英雄
有清晨里的孩童
他们探出身体索爱
身体永远凝固在那 
《Suzanne》by Leonard Cohen 《苏姗》科恩著,全文
Leonard Cohen China Site 莱昂纳德科恩中文作品辑
灵魂间的连接很久以前就存在,早在宇宙存在之前。
A bond between souls is ancient, older than the planet 
Your Reflection in my mirror 我的镜子你的身影
悼念词 Devan Mulvaney's funeral speech
 ---
Manjusaka Translation is based in China. We provide translating/interpreting services of English to Chinese and Chinese to English, both traditional and simplified Chinese, Cantonese and Mandarin.  

Area of focus is:


literature (novels, biography, news articles, poems etc.)
subtitles (film/movie, video, DVD, television, commercials etc.)
professional documents(resumes, essays, reference letters, name cards etc);
advertisement(brochures, flyers);
We enjoy the challenge of working with the writer/producer's style with literature, books and movies, and have a good sense of what would work in advertising, or what catches readers' attention in a good article.
Please contact This email address is being protected from spambots. You need JavaScript enabled to view it.