Traveling during the second wave of Covid
Urumqi 乌鲁木齐
Many hotels cannot host foreign passport holders these days, triple check before booking.
we've been enjoying staying at Atour, good service, reliable, usually with a gym and laundry service. I've booked an Atour that's certified to host foreigners, double checked over the phone before our trip, when we arrived 2 a.m., the reception told me that the policy had changed a day ago and they can no longer host foreign passport holders now...Fortunately Universal Hotel is next door and they can.
有惊无险的一夜,在最平凡的当地食物中找到抚慰。
IMG1 The most pleasant area 领馆巷; IMG3 Breakfast all day, Bausark 巴尔萨克早餐店 near Xinjiang University
Turpan 吐尔番
if coming in the summer time, be aware of the high heat
Turpan Emin Minaret Mosque 苏公塔 / grape drying huts / along the flaming mountains / Mazar Village (吐峪沟麻扎村), an ancient historical and cultural village with a history of more than 2600 years in the south of Tuyugou Grand Canyon.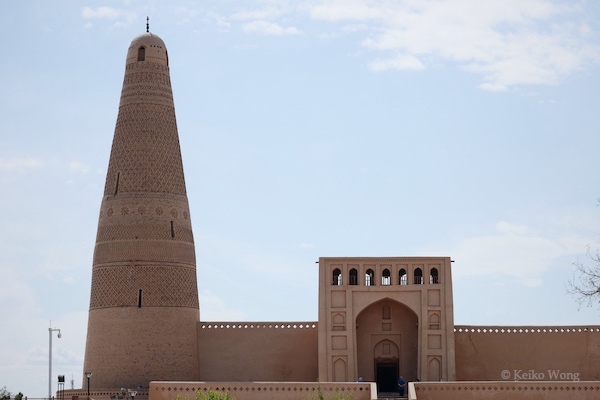 ~ speed train Urumqi to Turpan, 50 minutes, booked in advance
~ Fresh made Naan in market corner, 2.5rmb
~ my most memorable dish in Turpan - alfalfa salad!
~ We had Tahir as our guide for 2 days, Tahir is humble, speaks good English, has been a very helpful choice. Feel free to email me for his contact info.
~ Silk has become history, mulberry trees are still everywhere.
Kashgar 喀什
We used car service to go to Urumqi airport from Turpan (3hr) and took the Urumqi - Kashgar flight (2hr)
~ again, not many hotels can accept foreigners, we stayed in Chini Bagh / 其尼瓦克,an old 5-star hotel. Don't expect too much from the service (or breakfast), but the view is good (filthy window), location is great, and room is spacious.
~ the major teahouses with traditional music instruments playing in the old town: 民间乐师古地茶馆,百年老茶馆 (one of the film sets from The Kite Runner), and many many small teahouses with locals hanging out
~ there are many small alleys in and around the old town, full of charms
~ being a neurodivergent kid, Sullivan naturally successfully invited himself in joining the street soccer playing
~ the many dishes of Kashgar: lamb soup 羊肉汤, kebabs 肉串, pigeon soup 鸽子汤, Mutton polo/pilaf 手抓饭, rice cake with yogurt 酸奶粽子, samsa...yet our favorite (among street foods, cafes, restaurants, tea house) is this local teahouse that serves Pakistan milk tea & food, 20 meters from Chini Bagh entrance, this little tea house has no menu, only 3 dishes (Keema Matar/ground beef curry, Aloo Gosht / lamb & potato curry stew and spinach stew), freshmade chapati
Taxkorgan / Pamir Plateau 帕米尔高原上的塔什库尔干
Taxkorgan (tashkurgan), 300km from Kashgar, borders Afghanistan, Pakistan and Tajikistan, is the only Tajik autonomous county in China.
Getting to Taxkorgan, along the Karakoram Highway 独库公路沿途: Oytak Red Mountain;Bulongkol Lake (White Sand Mountain / whitesand lake), 150km from Kashgar; Karakul lake, located at the foot of Muztagh Ata; grassland; endless snowmontains of Pamir Plateau. The road is not dangerous, but since it's high altitude, be aware of: strong wind, strong UV and thin air. 

Bazaars 赶集
Bazaars/markets - "you can buy anything except chicken milk and cow's egg" - are one of our favorite places traveling, it's where you get to see locals in crowds, in Yunnan it's called gangai 赶街/赶集. Bazaars in the area are weekly, Sundays in Kashgar 荒野乡, Tuesdays in 疏附县 (bigger than the Kashgar one, and no tourist).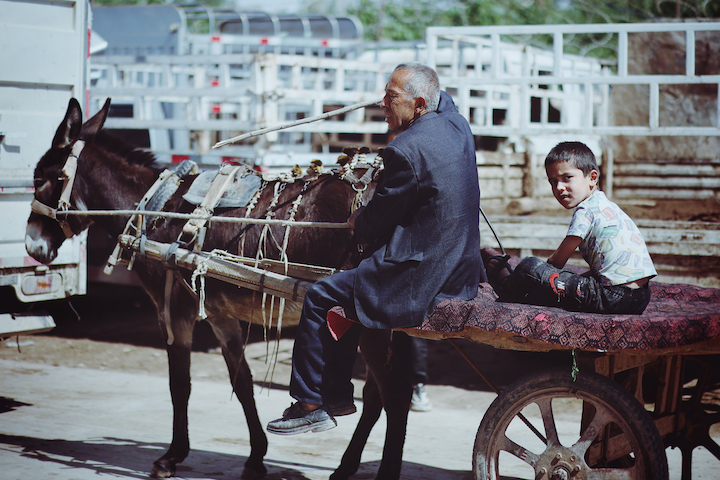 ~ Foreigners don't need a permit like traveling in Tibet, but you (Chinese or non-Chinese) do need to apply for special permits (边防证) for traveling to certain areas near the border.
~ Nowadays it's very safe to travel in Xinjiang.
~ Compared with other parts of China, hotels in Xinjiang are relatively pricy, and foreigners are only allowed to stay in designated hotels (like most places in China, but it's specifically strict here).
~ Meat is common, veggie is rare, dry fruits and nuts are everywhere.
Us
2 digital nomads & 1 neuro-divergent teen